APPLICATION
Shahrokhi sound attenuators are designed to suit H.V.A.C. Applications for sound absorbing in ductworks such as sound recording and broadcasting, Amphitheatres, Conference halls and etc.
Passing through the sound attenuator provide uniform and quiet airflow patterns so the sound level and air pressure decrease.
The sound attenuators are used for supply, return and exhaust air which installed inside the main or branch ductworks.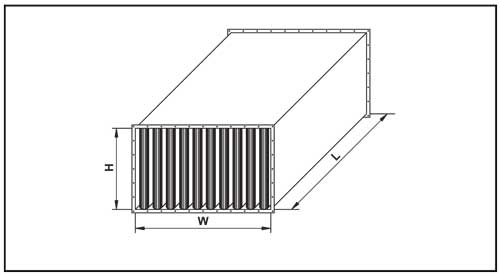 DESCRIPTION
These sound attenuators are made of a casing with a number of sound baffles.
The sound baffles installed parallel inside the casing with different distances and thicknesses.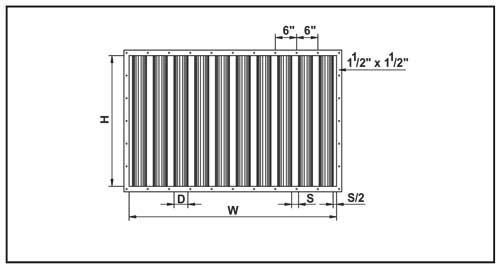 The sound attenuator casing join to ductwork line with flanges at both ends.
These casings are constructed from 12 inch up to 116 inch in increments 10 inch.
The baffles are filled with non-inflammable sound absorbing material , erosion and hygroscopic protected and allowing velocities up to 20 m.p.s. These sound baffles frame is constructed in two different shapes with screen mesh or perforated sheets.
Either the both ends of the sound baffles may be constructed in conic or curved forms to suit airflow lead.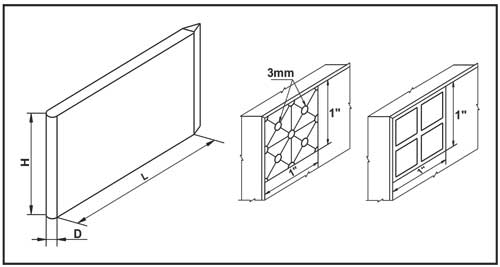 It is possible to supply the sound baffles separately to install them inside the ductworks.
MATERIAL
High quality 1.5mm. thickness iron galvanized sheet for the sound casing and 1mm. thickness for the sound baffles finish.
ORDERING CODE
Shahrokhi sound attenuators with following ordering code are specified.
SH : Shahrokhi manufacture
SDA : Sound attenuator
T : type : 24 : Air gap 2 inch and baffle thick. 4 inch
44 : Air gap 4 inch and baffle thick. 4 inch
48 : Air gap 4 inch and baffle thick. 8 inch
88 : Air gap 8 inch and baffle thick. 8 inch
W x H x L : Width (inch) x Height (inch) x Length (inch)